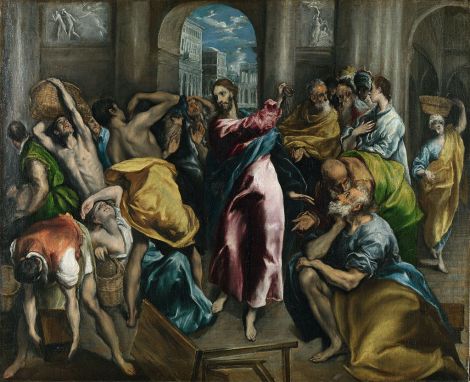 A conversation at a convention near you…
What's new in God's world.
His mercy. It is renewed daily. His blessings, we're daily loaded with the stuff. In His Kingdom, everyday offers something new.
Then this convention must be loaded with potential.
Fireworks. It's the season of a fresh unction. The man of God is challenging us to sow a 'love gift' into his ministry. For our trouble he promises to put an anointing upon our lives. He calls it the Boaz anointing.
What is the Boaz anointing?
An empowerment to riches, I suppose.
How did the man of God come about that adjective – Boaz?
It's not an adjective, silly. It's a name.You ought to read your bible.
Forgive me. Who was Boaz, might I ask?
A rich farmer.
So the anointing turns you into a rich farmer then?
More than that, it makes young women throw themselves at your feet.
So the man of God only caters to the needs of libidinous and ambitious men? Worldly and sexist, wouldn't you say?
Let's not get Catholic on this one. There's another anointing in the man of God's basket – if the Boaz thing doesn't float your boat.
What else is in the basket?
The Jabez anointing.
I take that's someone else's name, no?
Yes. You're getting with the programme.
Another farmer?
No.
Who was he then?
Dunno.
Anointed to be nobody?
On the contrary, anointed to be somebody by praying well.
That's all?
Prayers are big deal. Anyway, the anointing gets your prayers heard on high.
Why in the world did I think anointing was about empowerment for a divine purpose – partnering with God, impacting the world, leaving a legacy, higher ideals, altruism, the like!
What's wrong with being divinely and purposefully wealthy?
And randy?
That's low.
Excuse you! Hear me out. Moses was called so he could deliver the enslaved and the oppressed. [1]Exodus 3:2-10 David was anointed several times over so he could feed the flock of God. [2]Psalm 78:70-72 Jeremiah was anointed from the womb so he could speak truth to power. [3]Jeremiah 1:4-8 And the Lord Jesus – supremely anointed:
"To preach good tidings unto the meek; he hath sent me to bind up the broken-hearted, to proclaim liberty to the captives, and the opening of the prison to them that are bound…." [4]Isaiah 61:1-3
The stuff you're spewing is self-serving, introverted and base. They are nothing like the way of the Lord.
Cynical! The challenge of establishing a new kingdom called for a new approach, inventiveness, creativity…. The men of God have simply stood up to be counted. Back in the day when the church was a village affair, the Lord could make do with a donkey. The church is now a global phenomenon. In order to go about the Lord's business, the man of God needs a Lear 36 jet or two, or four. He gives of what he possess abundantly – anointing – to get more of what he requires – dollars.
It's dumbing down, monkey business, if you ask me! Back in the day, only God could anoint.
Loosen up a bit. God has moved on.
Where has He gone?
Everywhere – a street near you, the TV in your bedroom – getting with times, dishing out the stuff.
Sounds more like He's busy being dished out for the stuff.
Do you mind! It's the Almighty we're talking about! Anyway it was always in His plans to spread the gospel. The church has taken the challenge head-on. That plan is definitely on track.
I doubt that selling 'anointing' was in the plan. If memory serves me well, the last time someone offered money for anointing, the apostle cursed him with a grevious curse. [5]Acts 8:18
Christ has redeemed us from all curses. 'The former things are passed away'. [6]Revelation 21:4 We don't do curses anymore.
The principle remains
Who said anything about selling anointing anyway?
Hello!
I said 'sowing a love gift' for an  anointing, not buying an anointing!
And what's the difference?
With the former you lovingly give your credit card details and sit back and expect a harvest. It's scriptural.
You mean like the temple traders that Jesus flogged? [7]Matthew 21:12-13
Cheeky! As I was saying, with the latter, however, it's commercial – buying and selling – simple as. Definitely unscriptural.
And what's in it for God?
Who says there needs to be?
Adam was made so he could tend God's garden, [8]Genesis 2:5-15 Abraham was called to be a blessing, [9]Genesis 12:2 Esther was promoted so she could save God's people, [10]Esther 4:14 Israel was called to be God's witness, [11]Isaiah 43:10 even Pharaoh was used to show God's power. [12]Exodus 9:13-16 There has to be something in it for God. It's called divine purpose. Anything short of that is suspect.
That's Old Testament stuff.
You mean the Hebrew Bible?
What's the difference?
It remains the guide to a people's covenant with God, and we are supposed to learn from them.
Who says?
Prophet Isaiah. He said:
"…Many people shall go and say, Come ye, and let us go up to the mountain of the LORD, to the house of the God of Jacob; and he will teach us of his ways, and we will walk in his paths: for out of Zion shall go forth the law, and the word of the LORD from Jerusalem." [13]Isaiah 2:3
Sorry son! We're no longer in the prophetic age. This is the age of the word. The former things are passed away. Scripture.
Didn't He say: I am the Lord, I change not? [14]Malachi 3:6
Old Testament
Is it 'Old Testament' when it is used to request first fruit offerings? Does it matter that the prophetic age is gone when the church quotes Malachi ad nauseam [15]Malachi 3:9-12 to solicit tithe?
Those are wisdom Keys. God's eternal revelations, they don't belong to any particular age or scripture. But curses and laws belong in the Old Testament.
You mean the Hebrew Bible!
You're incorrigible!
---