The Prophet Jonah is every man of the covenant faith. All he desires is to save God from God. God suffers from an irrepressible urge to act in a manner unbecoming of a God of judgment. When His emotions are weighed, He falls short. When His acts are judged, God is guilty as charged.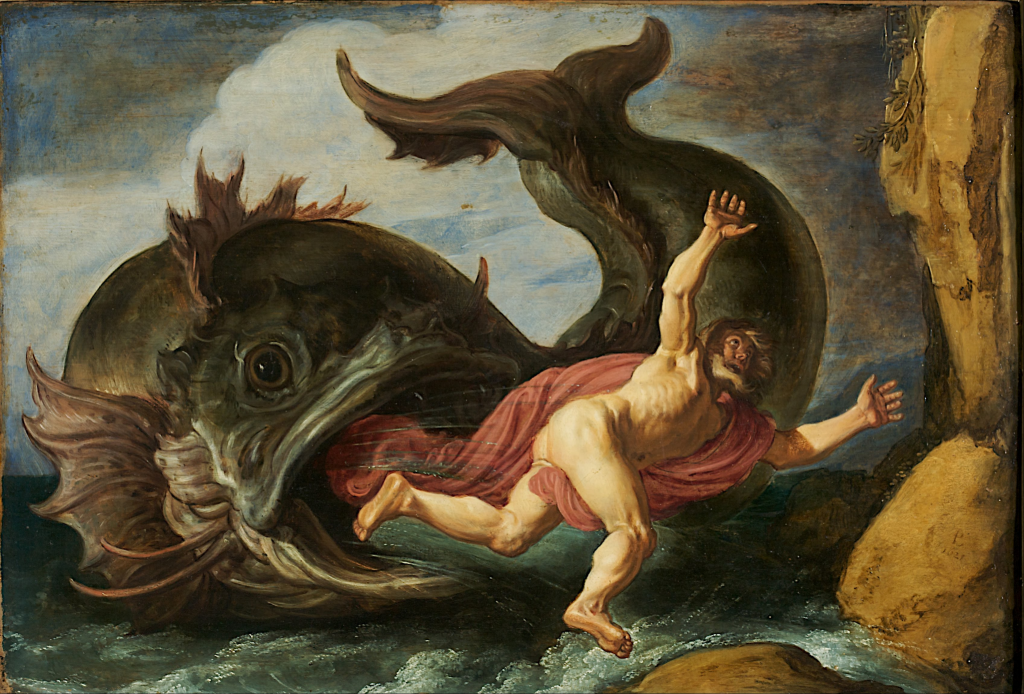 When God sent Jonah to warn Nineveh of impending judgement in the face of the evil committed in that land, the latter decided he must rebel to stop a scandal. As far as he was concerned evil should only be redressed by fire and fury. To do differently is to strengthen the hands that commit evil. That God should be seen to act in ways that strengthen evil was a scandal Jonah couldn't forbear.
Knowing that in God mercy triumphs over judgement, Jonah refused to go to Nineveh. In his words:
"For I knew that thou was a gracious God, and merciful, slow to anger, and of great kindness, and repentest thee of the evil" [1]Jonah 4:2
Why did Jonah consider those divine attributes qualities to rage against? After all the ancient Hebrews owe their own survival to divine mercy. As Jeremiah wrote:
"It is of the Lord's mercies that we are not consumed, because his compassions fail not." [2]Lamentations 3:22
If divine grace and compassion were good enough for the people of Israel why not the people of Nineveh? Were the Assyrians greater sinners than the Israelites? And why was it that one called to a Ministry of reconciliation as Jonah should desire divine fire and fury on anyone?
In the face of irreversible balance of power in favour of the oppressor, folks needed to be assured that God cared
Was it simply a case of God not showing particular care and sensitivity on that occasion? After all God couldn't possibly have forgotten that it's to the 'credit' of the Assyrians that 10 tribes of Israel were dispersed, never again to partake of the celebration of the covenant? Did God forget that Sennacherib derided God so badly that even the Almighty winced? Did He forget that the people of Nineveh plucked foetuses out of pregnant Israelite women and put men to the saw? Did He forget that the Assyrians' siege against Israel turned decent and respectable Israeli men and women to cannibals? Was it understandable therefore that Prophet Jonah desired judgement upon Nineveh, not mercy?
And that's not the end of the conundrum. At stake was a theology of the oppressed – the eschatological school of thought.
Before the conversion of Emperor Constantine, saving for the brief period of the Davidic monarchy, peoples of the covenant faith (Jewish and, later, Christian) were subject to hostile, powerful forces. From the period of the Pharaohs, Nebuchadnezzar, Caesars, Antiochus Epiphanes IV and others too many to count, Jews (first) and Christians suffered the most heinous crimes against humanity.
Through these periods of persecution it often seemed as though God had abdicated a duty of care to those who called upon His name. A story is told of a trial convened at a German holocaust holding Camp. The plaintiffs were the Jewish prisoners. The accused was none other than God. The case was about a dereliction of His duty of care towards His children. A guilty verdict was passed by the jury (after which everyone rushed to prepare for the evening prayers).
The feeling of divine neglect was also expressed by our Lord Jesus Christ at his crucifixion. [3]Matthew 27:46 It needed addressing in several of the epistles of the Christian Bible. Some of those epistles carried within them passions and prayers similar to those expressed by the Prophet Jonah. St Paul wrote:
"Seeing it is a righteous thing with God to recompense tribulation to them that trouble you…" [4]2Thessalonians 1:6
But when this day of the Lord delayed to arrive and the people of the covenant faith were still being fed to lions, sawn in two and murdered in ways only the Romans could have invented, the man of God penned a consolation:
"But I would not have you to be ignorant, brethren, concerning them which are asleep, that ye sorrow not, even as others which have no hope. For this we say unto you by the word of the Lord, that we which are alive and remain unto the coming of the Lord shall not prevent them which are asleep. For the Lord himself shall descend from heaven with a shout, with the voice of the archangel, and with the trump of God: and the dead in Christ shall rise first: Then we which are alive and remain shall be caught up together with them in the clouds, to meet the Lord in the air: and so shall we ever be with the Lord.
        Wherefore comfort one another with these words." [5]1Thessalonian 4:13-18
In the face of irreversible balance of power in favour of the oppressor and an absence of instruments of redress; in a culture in which state power was brutish and nasty and the tormented lives of people of faith were short, hope and justification in the covenant project were imperiled. Folks needed to be assured that God cared; that God was not approving of their tormentors; that there would be divine redress and the oppressors would be committed to a bottomless abyss, or in the words of the writer of the book of Jude, "the blackness of darkness forever". [6]Jude 1:13
God contrived an exchange with the prophet to open our understanding to the prodigality of divine love.
So imminent was the day of consolation that the Apostle Paul exhorted that he and some in his audience would be alive to witness it. That's about 2000 years ago. But, hey…what's a couple of thousands of years in the schemes of heaven? Didn't Apostle Peter teach that?
"But, beloved, be not ignorant of this one thing, that one day is with the Lord as a thousand years, and a thousand years as one day. [7]2 Peter 3:8
Apostle Peter went on to write that the delay in divine justice was so as to afford sinners the opportunity to repent because God wouldn't want any to perish.
True enough God has a reputation for long-suffering. He has millennially pushed back on the apocalypse. But to anchor it simply on God 'not wishing any to perish' falls dolefully close to the Jonah Complex. It misses the point that God set out to address in the book of Jonah.
Before exploring God's exchange with Jonah let's take an excursion through scripture.
In Deuteronomy 21:18-20 Moses decreed that a parent should commit an unrepentant, stubborn, drunken and rebellious child to the elders for public execution. Nowhere in the Bible was it recorded that any parent honoured that law. Nowhere in post-biblical Jewish history was that law reportedly applied.
David who had the most rebellious, rapist, incestuous, fratricidal children didn't commit any of his wayward spawns to the law. Rather we are told that he mourned Absalom who killed his brother, raped his father's concubines and briefly dethroned his father. In the words of our Lord Jesus Christ:
"If ye then, being evil, know how to give good gifts unto your children, how much more shall your Father which is in heaven give good things to them that ask him?" [8]Matthew 7:11
His point: No earthly parent could ever match the richness and benevolence of God's loving-kindness.
That was the point of the book of Jonah. God contrived an exchange with the prophet to open our understanding to the prodigality of divine love. He made a gourd for Jonah and no sooner caused the gourd to wither. Jonah felt depressed at the death of the gourd to which he had become attached.
"Then said the LORD, Thou hast had pity on the gourd, for the which thou hast not laboured, neither madest it grow; which came up in a night, and perished in a night: And should not I spare Nineveh, that great city, wherein are more than six score thousand persons that cannot discern between their right hand and their left hand; and also much cattle?" [9]Jonah 4:10-11
I don't know how many of the apostles had children, or the number amongst those who had children who would for any reason cast their children into fire forever. Throughout biblical history we are invited to a communion with God not because we have attained unto perfection; neither are we called upon to a fellowship with God in the hope that at some moment in time we would attain unto perfection. As far back as Genesis 8:21 God concluded He would have to lower divine standards to accommodate the human factor because humans would not cease to be humans.
The Ministry committed to the Church is the gospel of reconciliation, not one of fire and fury.
A church and a theology built on judgement day, eternal damnation and fiery visions of the apocalypse miss the point of the ministry of our Lord Jesus Christ. As St Paul wrote:
"And all things are of God, who hath reconciled us to himself by Jesus Christ, and hath given to us the ministry of reconciliation; To wit, that God was in Christ, reconciling the world unto himself, not imputing their trespasses unto them; and hath committed unto us the word of reconciliation." [10]2 Corinthians 5:18-19
The Ministry committed to the Church is the gospel of reconciliation, not one of fire and fury. Any 'conversion' based on the fear of eternal destruction could not fulfil the grand desires of a God who loves us and craves our love. As St John wrote:
"There is no fear in love; but perfect love casteth out fear: because fear hath torment. He that feareth is not made perfect in love." [11]1 John 4:18
It is of course not as easy to build a church on teaching the love of God as it is to build one on appealing to human instincts for self-preservation and prosperity. But God never said the work He's committed to us would be easy. Filling amphitheatres with folks who are fed with all but that which God is offering is an exercise in futility.
---